What Better Endorsement for E-drill than Rosie the Riveter?
Recently, Perfect Point exhibited at the Small Business Innovation Pavilion at the 2018 Logistics Officer Association (LOA) Symposium October 9 – 12 in Oklahoma City, OK.
And what better way to launch our first blogpost than to celebrate meeting one of America's last remaining Rosie the Riveters, Ms. Dulcia "June" Buckley from Del City, Ok.
While dozens of senior enlisted personnel and officers and civilian contractors marveled at the demonstration of E-drill's speed and precision, everyone wanted to see how easily "Rosie" could do it. She took center stage and did not disappoint.
Hired by Douglas Aircraft in 1944, June worked as an assembly general helper on C-47 cargo planes. She went on to earn her pilot's license for single engine aircraft at only 24 years' old. Later, she worked for the FBI, transcribing field agent reports in both Washington, D.C. and Oklahoma offices.
In 1956, she went to work at Tinker Field, retiring in 1985 after 36 years of federal service. She raised two daughters and a son, while continually working outside the home.
At a vigorous 91, June has never lost her first love of aviation.
Rosie the Riveter is a cultural icon of World War II, representing the women who worked in factories and shipyards during World War II, many of whom filled critical workforce vacancies, produced munitions and war supplies, and took on entirely new jobs while most men went off to war.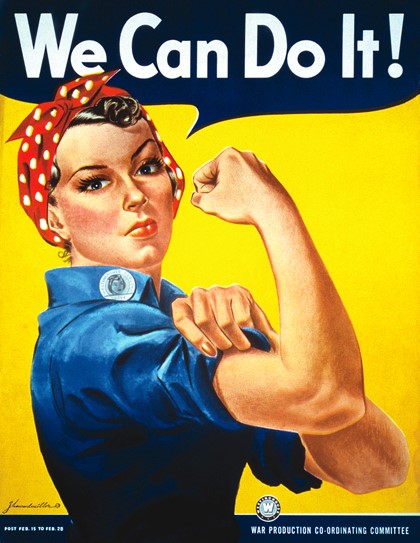 According to the History channel, more than 310,000 women worked in the U.S. aircraft industry in 1943, making up 65 percent of the industry's total workforce (compared to just 1 percent in the pre-war years).
The munitions industry also heavily recruited women workers, as illustrated by the U.S. government's Rosie the Riveter propaganda campaign, as evidenced in the poster to the right.
About LOA
The Logistics Officer Association (LOA) Symposium was "this year's premier event dedicated to enabling interactive exchanges among logistics, acquisition and technology professionals from across the Department of Defense, defense industry and academia."
With a continued focus on Leadership, Innovation, Velocity, Excellence (L.I.V.E.), the 2018 LOA Symposium offers a forum where logisticians at all levels of leadership can collaborate on the challenges of operating in a dynamic global defense environment and brainstorm solutions to overcome them.
Look for more interesting bits of information from Perfect Point in our upcoming blogposts. And let us know if there's a question you like us to answer or a topic you'd like us to cover.  Happy Thanksgiving.