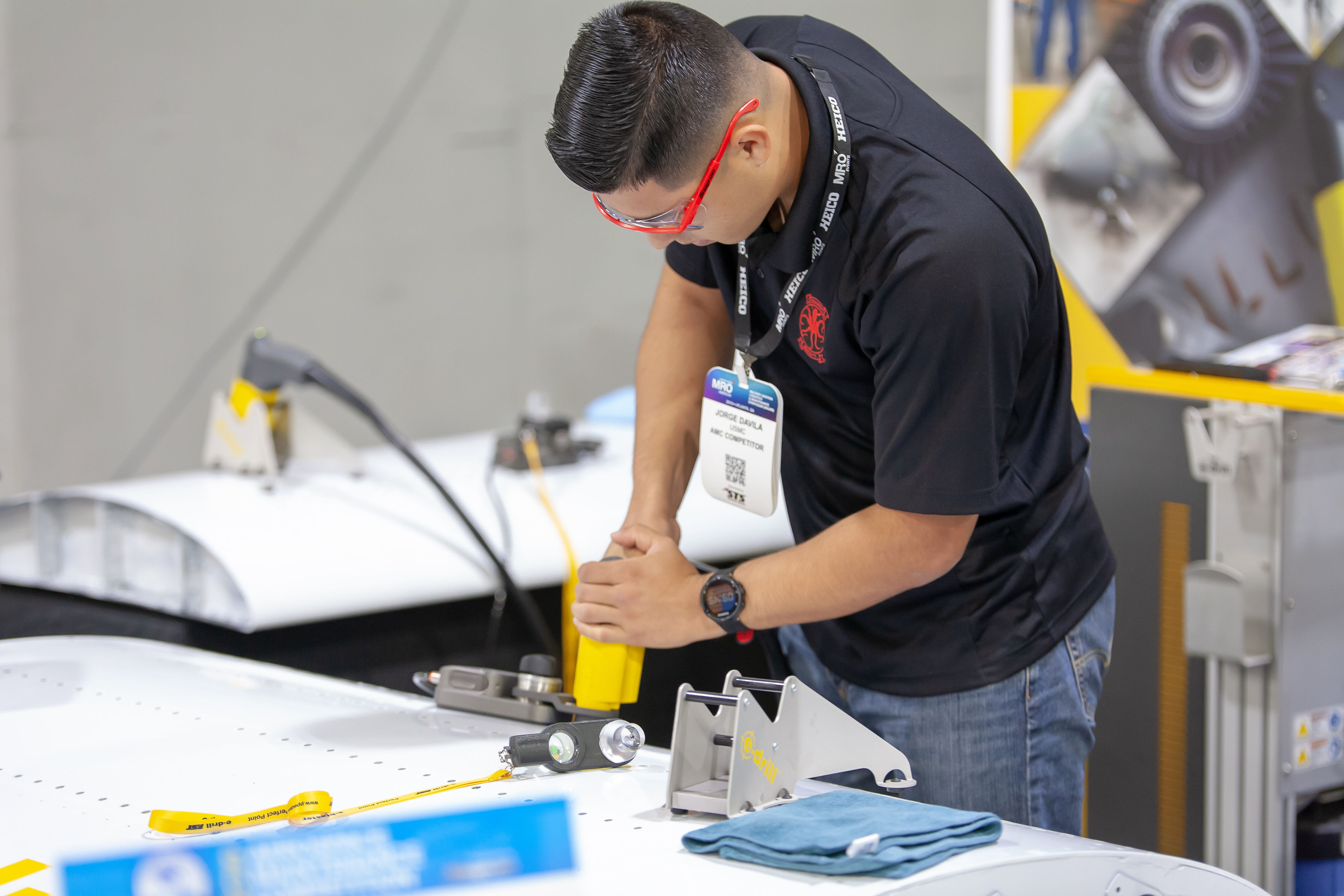 Perfect Point Makes Generous Prize Donation to E-Drill Event at Annual Aerospace Maintenance Competition
Engineers, Students, and Technicians- Ready, Set, Start!
Every year, aircraft maintenance professionals from around the world gather for the Aerospace Maintenance Council's flagship event, the Aerospace Maintenance Competition. The event this year will be held at the Georgia World Congress Center in Atlanta, Georgia. Teams of aircraft maintenance technicians gather to test their skills in friendly competition and to keep up-to-date with the latest in this important craft. Every year, over 500 competitors form nearly 100 teams in the premier competitive gathering for aircraft maintenance technicians in the United States.
This year, Perfect Point, manufacturer of aerospace maintenance equipment including the E-Drill, is making a generous donation to the E-Drill Fastener Removal Competition. As a matter of good aircraft maintenance, titanium fasteners must be removed and replaced, a process that has traditionally been slow and labor-intensive but is critical to the health of the aircraft.
Traditional tools for removing the titanium fasteners have included ball grinders, pneumatic drills, cobalt drill bits, and parallel punches. Traditional methods were time consuming and difficult, stressful on the technician, and, if done improperly, could lead to costly damage to the aircraft.
Perfect Point's E-Drill technology allows technicians to perform this task rapidly, up to five times faster than with traditional tools. Use of the E-Drill is also easier on the technician, and far less likely to cause damage to their aircraft.
The E-Drill Event pits teams of aircraft maintenance technicians against one another to see who can rise above the rest in a specific challenge: removing five difficult-to-remove titanium fasteners from a composite Global 5000 flap. Last year's winning team—FedEx LAX—completed the event in an unprecedented 1 Minute 27 seconds, beating the previous record by a full minute. Teams from around the country will convene to compete once again, hoping to beat this record and establish supremacy in the contest.
Perfect Point's generous prize donation will ensure that teams are highly incentivized to give it their all. The prize? The top-scoring school will win an E-Drill Demo System, along with an assortment of accessories and consumables. The top overall scoring team will net an Edrill 2.0 Demo Machine, along with various accessories. The top school's prize will also come with a full course syllabus, customized training videos, and a series of presentations. The top overall scoring team will receive 2-day onsite training and setup for the system.
Total cash value of Perfect Point's donated prizes runs at over $200,000. Perfect Point's sponsorship of the E-Drill event reaffirms their commitment to advancing technology, training, and overall excellence in the field of aircraft maintenance.
The E-Drill Fastener Removal Competition is just one of the events that will test technicians' skills, speed, and craftsmanship at the Aerospace Maintenance Competition. The competition allows teams of five technicians to compete in a variety of events, representing diverse branches of the field including Commercial Airlines, General Aviation, Military, Repair and Manufacturing, School, and Space. The competition also serves as one of the main annual meeting places for technicians in the field, allowing technicians to form professional connections, learn from one another, and raise awareness of the latest techniques and technologies in this vital industry.
The annual competition is supported through generous donations by leaders in the industry like Perfect Point. Since 2010, Perfect Point has strived to move the field of aircraft maintenance forward through innovation, technology, and knowledge. Through its spirit of innovation, along with a passion for community-minded activities and sponsorships like the upcoming E-Drill Fastener Removal Competition, Perfect Point continues to embrace its position as a leader in the space of aerospace maintenance, repair, and operations.
Watch the Video below to see how the competition went last year!