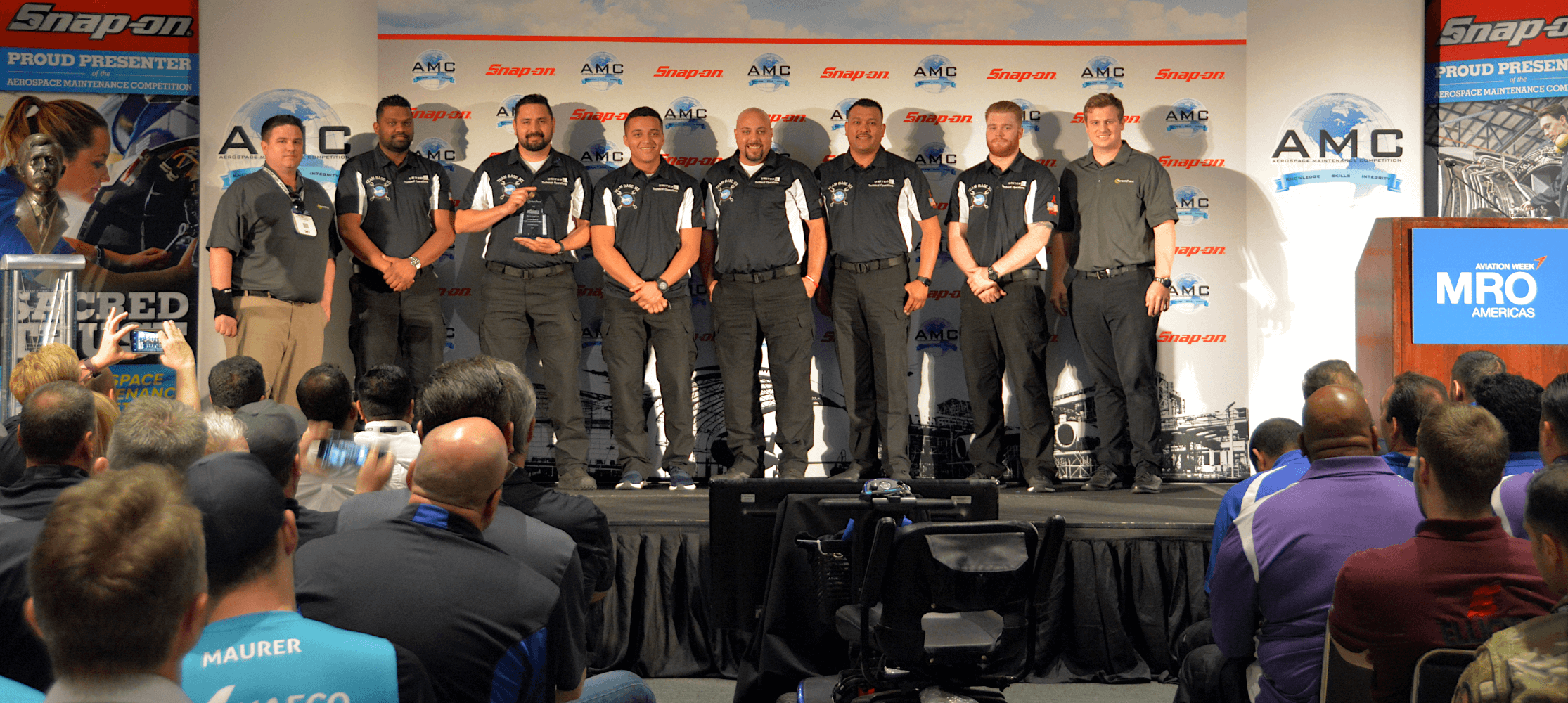 E-drill Steals the Spotlight at Aerospace Maintenance Competition
Perfect Point and Ntegrity Celebrate United Airlines as Winner at the 2019 Aerospace Maintenance Competition
The E-drill Fastener Removal Event was a top hit according to most of the 449 Technicians competing in the 2019 Aerospace Maintenance Competition. The event tested each competitor's ability to remove 5 titanium Composi-Lok type fasteners from a refurbished composite Global 5000 Flap.
These  fasteners are constructed of titanium and steel alloy, making conventional drilling extremely difficult to control, which can often resulting in damage to the structure. This task could take an experienced technician 20 minutes or more to complete using a twist drill.  Technicians using E-Drill were able to complete the task much faster, with no damage to the fastener holes. United Airlines – Base Maintenance was the fastest team to complete this event, doing so in 2 minutes 49 seconds.
The E-drill's exciting first year at the competition had the contestants talking and was flagged as one of the "Cool Events to See at the AMC" by Aviation Pros AMT Magazine.
Here's what some of the competitors said:
"I've been a structures mechanic for over 10 years… and I've wasted a lot of time because I didn't have this tool. It's clean, you don't mess anything up, I really wish I would've had this tool"

"… my favorite event in the Competition. You HAVE to come back next year"

"Where were you 30 years ago?" "This is an amazing product."
---
Perfect Point's innovative solutions are revolutionizing how structural maintenance is performed in the 21st Century.  These exciting tools are quickly becoming the industry standard by reducing MRO costs through increased productivity, damage avoidance, ergonomics, and lower consumables costs.
If you are interested in learning more about ways to:
Improve your AOG Turnaround-Time
Reduce Labor Time and Cost
Mitigate Damage
Improve Production Quality 
Reduce Material Cost
Eliminate FOD
Reduce Hazardous Waste
Reduce the Ergonomic Tax on your Workers
Contact: info@PPEDM.com
For Videos of the E-Drill In Action Check us out on YouTube