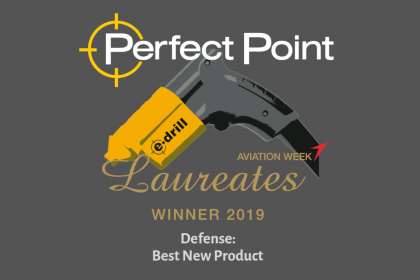 Aviation Week Awards E-drill the 2019 Laureate for "Best New Product" in the Defense Category
While we've known all along that E-drill was destined for greatness, there's nothing like accolades from the aerospace industry's preeminent media network to give a company goose bumps.
For over 60 years, Aviation Week Network's Laureate Awards have recognized the "extraordinary achievements of individuals and teams in aviation, aerospace, and defense. Their accomplishments embody the spirit of exploration, innovation, and vision that inspire others to strive for progress, change and leadership in aviation and aerospace."
Other Category Winners

We are particularly proud because we share this rarified air with some of the best in the business. Congratulations to every winner.
This past year, we've focused on bringing to market our latest generation E-drill Pro 150 Series,
packed with cutting-edge performance benefits, destined to revolutionize fastener removal as you know it. Further expanding our engineering solutions, we also launched our new, fully-loaded, Professional Series Rolling Tool Cart  and our new Square Drive Rescue System.
You may not hear it, but E-drills hum around the world in service to the military, OEMS, and operators— keeping aircraft available, technicians safe, and maintainers efficient. E-drill makes difficult fastener removal jobs easy.  Faster, Safer, Better Fastener Removal.
Time to Set Down the Twist-Drill
Fastener removal represents a significant portion of the labor cost of aircraft maintenance, and it has not changed since Aviation Week debuted its Laureate Awards 62 years ago—the industry still relies on twist-drill technology, which virtually assures damage to aircraft, upending schedules, and harm to mechanics due to the high forces required.
With the increased adoption of composite materials and complex blind fasteners made from high-strength materials, fastener removal poses a greater challenge to MRO teams who strive for speed, safety, and efficiency.
We've learned from extensive time in the field that the mechanic of tomorrow does not want to remove modern high-strength fasteners with a twist drill. The difficulty, human endurance, and proficiency required are a significant consideration for the workforce of the future.
Click here for side-by-side comparison of the E-drill vs Twist drill
Why E-drill Matters
The E-drill Pro 150 Series provides forceless electro-discharge machining (EDM) cutting for repeatable accuracy and effectiveness on a scale that conventional twist drilling cannot. The E-drill consistently cuts the head or collar from hard-metal fasteners (titanium, steel, and nickel alloys) in less than 10 seconds with a minuscule damage rate of < 1%, compared to the more common five to seven minutes (or more) required with standard twist drills.
Perfect Point has delivered more than 250 systems worldwide. When an OEM, operator or MRO facility uses the E-drill, the benefits are immediate:
1. Reduces the cost of labor and lost time
2. Improves accuracy by reducing damage rates from 20% to 1%
3. Reduces material costs and eliminates debris (FOD)
4. Speeds training time to proficiency
5. Protects mechanics from career-ending hand, arm or shoulder injuries
6. Prevents unwanted exposure to noise-driven hearing loss
Dozens of aerospace OEMs have integrated the E-drill, (no longer one of the industry's best-kept secrets) into their MRO operations: Northrop Grumman, Lockheed Martin, the U.S. Military, Airbus, Boeing, Gulfstream, Textron, Rolls Royce, Bombardier, Embraer, select global airlines and MRO providers to support numerous platforms from the B-2, F-5, F-15, F-16, F-18, F-22, F-35, C-130, KC-135, and V-22 to the Airbus line of aircraft.
Contact Perfect Point to Demo the E-drill or visit our videos page to see the benefits of using the E-drill for yourself